Purchasing things like good ice skates online has never been easy. But choosing hockey skates or figure skates that fit wide feet snugly usually turns out to be even trickier. All too often, figure skaters and hockey players, especially beginners, follow recommendations from random people online.
And what happens? These players end up with a pair of ice skates that crush their feet harder than they've ever been squeezed. As I review 5 of the best ice skates for wide feet, I focus on helping you pick up something that'll work great for your foot size and shape.
Also Read: Keeping Feet Warm Ice Skating
Near the finish of this review, you'll find a detailed buying guide where I explain how to choose the right boot for figure skating and hockey playing. At this point, though, I'll quickly list out 5 of what I (and many other skaters) consider to be the best wide feet ice skates for cutting figures and stopping hard puck shots.
Without further ado, here's my list of the best figure skates and hockey skates that come in wide.  Whether you're planning on playing in a rec league or are an accomplished figure/hockey skater, you'll likely find an option you like.
5 Best Wide Fitting Figure Skates and Hockey Skates
Jackson Ultima Fusion Elle Freestyle Figure Skate (

Great for Beginners and Intermediate Skaters

)

Men's CCM SK80 RBZ 80EE Senior Skate (Goalie's Pick)

Bauer Nexus 2N (#1 Wide Feet Ice Skates)

Bauer Nexus 800 (A Mid-range, High-Volume Skate

Bauer Nexus N8000 Wide Width Senior Skate (Also Great)
But before I tell you everything you should know before whipping out that credit card (or that wallet), here's a not-so-deep dive into the greatness (or lack thereof) of each skate.
Wide-foot Ice Skate Reviews & A Super Detailed Buying Guide)
Let's jump right in….
*Affiliate Links Disclosure: As an Amazon Associate, I earn from qualifying purchases. 
Below is a cute little wide-fitting ice skates comparison table in case you're time-starved.
Best Wide-fit Figure Skates
Fit: They fit true to size. If between sizes, size down. And if you have duck-wide feet, get your usual shoe size. They're for skaters with a wide forefoot and a narrowish heel. Make sure to choose an adult size in wide width.
Stiffness: The boot is pretty stiff, and the toe pick is rather large and needs some getting-used-to.
Blade quality: Mark II blades. Not really elite blades, but they're good enough for beginner and intermediate-level jumps
Get proper laces: The existing laces are thin and don't reach all the way up the boot.
Heat moldable 
Widest Hockey Skates
Fit: If you have a wide forefoot, high insteps, and a wide heel, the Bauer Nexus 2N is the real deal. These skates are wide front to back, unlike the Ultima Elle
Support: A really supportive albeit a little too stiff boot for hockey players
Blades: Premium-quality blades that hold a sharpening for long without grinding down into dust each time
Tuuk Lightspeed Edge Holder features a quick-release runner so you change out dull blades lightnight-fast
Heat moldable boots so that you can make the boot form nicely around the foot.
Glides nice and fast
Pricey but worth it
Best Goalie Wide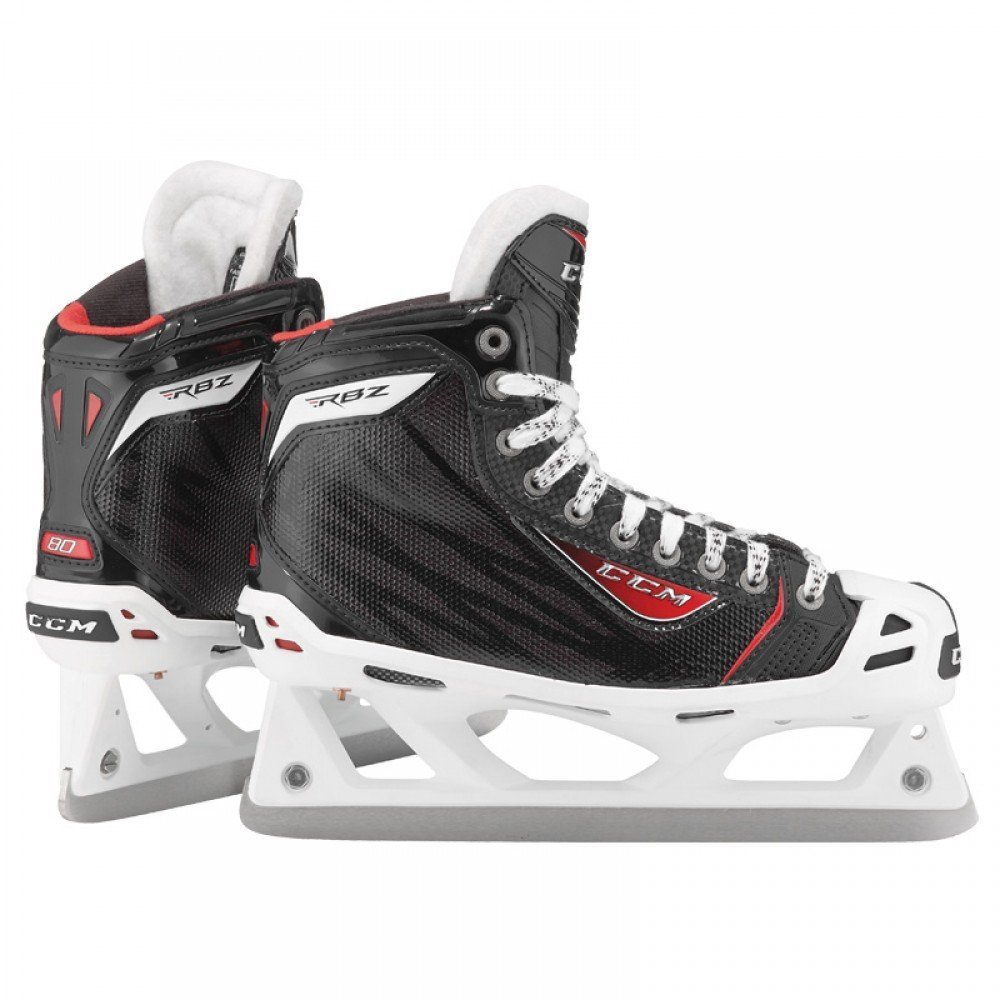 Fit: It fits true to size, that's is 1.5 sizes smaller than your normal shoe size. Measure your feet and order per size chart.
Availability: Pretty hard to find online, but it's available on e-Bay
Stiffness: These are really stiff boots, but they're not extremely stiff. They're designed for ice hockey goalies
They're carbon-fiber boots that stand up great to tons of abuse.
Blades: They're high-quality stainless steel blades that won't need sharpening too often. Plus, they're replaceable, which means you can easily put in same quality or even better blades down the road.
Heat moldable: Customize the fit however you want
1. Jackson Ultima Fusion Elle Freestyle Figure Skate Review: Best for Wide Foot & Narrower Heel
Fitting information: This skate fits true to size. Order your regular size if you have standard-width feet, but if you're between sizes, size down. If you have wide feet, definitely get your usual street shoe size.
The Jackson Ultima Fusion Elle Freestyle Figure Skate looks good with nice crystals. It fits wider at the forefoot than it does at the heel. It comes with nice-quality steel blades with a toe pick. They're great for beginner-level figure skaters: kids, women, and men.
Jackson makes good ice skates, and the Jackson Ultima Fusion Elle for freestyle figure skating is no exception. It's pretty hard to find figure skates with a wide toe box, but you'd be hard-pressed to find a comparable skate that's roomier than the Jackson Ultima Elle.
With a lightweight microfiber upper and an improved lightweight Fusion sole, this boot doesn't feel like a ton of bricks. And a slanting cut from the tongue toward the lower calf ensures you get enough support without sacrificing flexibility.
The skate's steel blades feature a toe pick, and they attach to the outsole via sturdy aluminum plates. The toe pick is larger than it is on most absolute-beginner ice skates, which means there's some getting-used-to involved here.
You get to enjoy simple jumps with this skate as well as the more demanding ones such as double jumps, waltz jumps, crossovers, and others. One thing you'll love about these boots is how supremely supportive they are for all kinds of maneuvers. It's the sort of boot to upgrade to once you outgrow beginner skates such as the Jackson Ultima Softec.
There's one little fact about this skate's fit you must know. Even though the Jackson Ultima Fusion Elle features a roomy toe box, its heel area is narrower. It's for ice skaters with a wide forefoot but a narrower heel.
So, be absolutely sure your foot shape will work well with this wide-toe-box-narrow-heel fit. Otherwise, you'll end up with a pair of skates that'll squeeze the heck out of your heel.
The laces are thin and don't go all the way up to the top of the well-padded tongue, but heel-lock and support are great. Be sure to get longer, better-quality laces.
Do you know why the Jackson Ultima Fusion Elle costs over $250 (as of this writing)? It's because it's not constructed using cheap components. Small wonder the skate performs well and lasts, but not forever.
It's a beginner/intermediate figure skate, but it should outlast any of the $60 starting-skater boots that online stores are choking on.
This skate looks nice, too, and the added Swarovski crystals make it look elegant. You'll always get compliments when out there free-styling.
Be careful so that you don't end up with a kid's skates. Explore the drop-down menu on the Amazon listing to select a larger size if you're an adult.
Note that these boots are pretty stiff, but isn't that normal for these kinds of boots? You'll probably want to heat-mold them to help them break in a little sooner.
But once you pay the price (discomfort and a little pain), all you'll experience figure skating in these aesthetically pleasing boots is comfort and satisfaction.
Pro
A compliment magnet
Heat-moldable, easy to create the perfect fit
Crystals add elegance
Wide at the forefoot, but narrower at the heel
Well-crafted and doesn't look cheap
A supportive boot + a sizeable toe pick for beginner and intermediate-level jumps
Cons
Many cheaper alternatives are available
Quite stiff before you break it in
Laces could be longer and of better quality
This figure skate isn't designed for pro-level figure skaters. It's meant for beginner and intermediate-level girls, boys, women, and men. And if it wasn't that stiff, you'd not get as much ankle support as you'd like as a beginner. All ice skates hurt a little at first, you know.
2. Men's CCM SK80 RBZ 80EE Senior Goalie Skate Review
The Men's CCM SK80 RBZ 80EE Senior Skate is a roomy-toe-box men's skate for playing serious hockey. It's a premium skate costing a couple hundred dollars, but the cushy padding, sturdy boot construction, and high-quality frame & blades make for a durable skate that performs exceptionally well.
CCM has been in a never-ending contest with Bauer for market dominance for years. And it's a worthy competitor. This hockey brand produces good-quality sporting goods, but it's best known for its generously sized ice skates that fit some of the flattest, widest feet out there.
Admittedly, the CCM SK80 RBZ 80EE Senior hockey skate for men is expensive. But with this boot, you sure do get what you pay for. You get great performance, cushy comfort, excellent support, and perfect protection.
It's a stylish, heat-moldable pair of hockey skates that fits 10.5 EE feet snugly and comfortably. But this 10.5 EE width proves to be much wider than the same width in other brands excluding Bauer. This fit is like 10EEE in other skates — it should work well for even the biggest feet.
The Vectorwear Surlyn outer shell is heat-modifiable, too, which means each hockey player can customize their fit however they want. The skate also features a customizable EPP foam that further strengthens the boot. This is a high-performance hockey boot, and each stride on the ice feels powerful and complete.
The CCM SK80 RBZ 80 EE provides tons of super thick padding so you can support your team in comfort while staying fully shielded from the dangerous impact of feet-loving pucks.
The liner is a heavy-duty microfiber affair so that you can stop worrying about sweat and focus on the game. As for the 7mm felt-and-foam tongue, it offers matchless lace-bite protection while enhancing comfort and the overall fit.
Also, there's ultra-thick padding around the ankle extending all the way to the top back of the shin. As you make those powerful strides, you know you have all the support you'll ever need to win.
But there's more.
The skate boasts a composite outsole, which explains why it's a surprisingly lightweight boot. This sole allows for amazing energy transfer from the foot to the blades. As for the boots, they're made from carbon fiber, and they're really stiff, but without restricting movement.
As for the runner holder, the CCM SK80 RBZ 80EE features the recently improved Speed Blade 4.0 blade holder. This runner holder collaborates with premium-quality stainless steel runners so you can execute turns and stops swiftly and neatly as a goalie. And these blades are replaceable, which is nice.
Pros
High-quality carbon fiber goalie ice skates
Enables powerful, complete strides
A super sturdy construction made out of premium parts
Provides an extra-wide fit for constantly moving goalies
Stylish and comes with exceptionally thick padding
Cons
Do you like stylish things that offer everything you expected and then some while outlasting every other similar product you've ever owned?
Are you Ok forking over a couple hundred dollars for a top-of-the-line hockey skate specifically designed for wide-footed players? Then, this wide-toe box CCM skate got you covered.
Note: I just found out that Hockeyworld are selling this skate at a substantially lower price than before. I hope the quality is where it used to be.
3. Bauer Nexus 2N Wide Hockey Skate Review (for Wide-everywhere Feet)

You're past that point where wide-foot skaters ask which skates are best for wide feet. At this point, you know that Bauer hockey skates are some of the widest on the market. That's why you're asking a more specific question: which Bauer ice skates are the widest?
Bauer is among the biggest and most popular hockey brands in the world, alongside True and CCM.
The company offers three skate lineups namely Bauer Vapor (Wide fit), Bauer Supreme (Wider than the Vapor fit), and Nexus. Nexus is the widest Bauer wide fit currently.
How Wide is the Bauer Nexus 2N?
The Bauer Nexus 2N hockey skate is a high-quality hockey skate designed specifically to fit players with high-volume and wide feet. But how wide is the Bauer Nexus 2N? It's really wide, wider than pretty much any other option you've ever skated in.
If you wear the Bauer 2N skate in D width, your large feet should feel as comfortable as they would in any EE-width skate in the Bauer Supreme lineup. And if your feet are some of the widest the skating world's ever seen, it'd be best to choose this Bauer boot in EE width.
I'll tell you what EE wide in the Bauer Nexus 2N converts into in other skates. It's equal to an EEE-width skate in other brands and models.
Get Bauer Nexus If Your Feet Are Wide Back to Front
Bauer ice skates are wide throughout the entirety of the boot. They're wide at the forefoot, wide around the middle, and wide around the heel. If you have a wide forefoot but a standard-size or narrow heel, stay away from any Bauer Nexus ice skate. Because you'll experience heel-lift the whole time. 
Features and Specs of the Bauer Nexus 2N Hockey Skates
Bauer technologies keep evolving, but it feels like the Bauer Nexus 2N was Bauer's finest hour. The company's Form-Fit+ footbed works with the skate's textured heel and sturdy toe cup for tons of protection, comfort, durability, and support.
Then there's Bauer's Hydra Max 2 liner system designed to tackle sweat besides helping the boot to dry really fast after play.
The product is a carefully crafted boot that lasts many hockey seasons thanks to Bauer's 3D Lasted Curv Composite skate construction system. As for performance, you'd never ask for a better skate.
Many great players have put this shoe to the test again and again. And its peerless performance on the ice has never been in doubt. It looks great, too. Plus, those hard pucks won't ever break your foot. The skate's protective credentials make sure that never, ever happens.
Looking for a pair of skates that lets you switch blades super quickly mid-play? Look no further than the Bauer Nexus 2N. The company's famous proprietary blade-switching technology, the Lightspeed Edge w/ Tuuk LS3 Steel, makes swapping out dull-ish blades for sharper ones a breeze.
The blades are super strong, too. You won't sharpen them to dust in a season! They're a premium-quality stainless steel affair handpicked for the finest wide-footed hockey players on the planet.
Did you know that the two-time Olympic gold medalist and NHL All-Star Michael Shea Weber has severally been spotted playing in the Bauer 2N? Well, now you know.
Pros
Changing blades is fast and fuss-free
Loved by some NHL-All Stars
Looks rad
High-quality, high-performance stainless steel blades
Possibly the widest hockey skate for wide feet
Cons
Heavier than its siblings in the Vapor and Supreme lineups
Not cheap (And who's surprised?)
Oh, that was a pretty long mini-review! But that's because the Bauer Nexus 2N deserves every word. Check out other good Bauer hockey skates on Amazon.
4. Bauer Nexus 800 Men's Wide-fitting Hockey Skate Review
The Bauer Nexus 800 Men's Hockey Skate is a wide-fitting, high-performance men's hockey skate that lasts. It's not cheap, but it's worth the money.
Here's another wide-fit ice hockey skate from Bauer, the men's Bauer Nexus 800 ice skate. A size 10D men's size in this brand is more like 10EE in skates from many other companies. So, yes, the toe box is really spacious, just as it is for all options in Bauer's Nexus skate lineup.
The boot's compression-molded EVA quarter package is crafted out of good quality and long-lasting Pro-Tech Nylon. That's why the skate offers good foot support and longevity. What's more, the upper part of the boot allows you to heat-mold the skate for that ever-elusive snug fit.
Bauer uses the Hydrophobic Retro Tan Clarino liner as its moisture management system. Now, the liner works well, keeping your feet comfortable and fresh throughout the game.
Add the Form Fit+ insert with the integrated heel stabilizer, and sweat management gets even better while grip and support get a noticeable boost.
The skate's pro-level anatomical heel provides enough foot and ankle support. This heel support mechanism pairs up with the durable composite outsole to make for great energy transfer.
Then there's the Anaform foam ankle support pads designed to offer comfort while molding to your foot shape for that perfect fit. And a super thick 2-piece felt tongue plus its molded metatarsal guard takes comfort to an even better place.
And no, you won't get lace bite because the tongue prevents that. Best of all, this is a shoe designed with a lot of foot room to accommodate even the beefiest feet.
Pros
Packs hefty feet without killing them
Heat-moldable; allows the creation of a true custom fit
Well-made and durable
Wide at the toe box and heel area
Cons
Well, this isn't a cheap hockey skate.  And that's because it's not a cheaply made skate.
5. Bauer Nexus N8000 Wide Width Senior Skate Review
The Bauer Nexus N8000 Senior Hockey Skate recently got redesigned to offer a somewhat closer fit. The tweak focused on the ankle and heel area as well as the forefoot. But if you think the Bauer Nexus N8000 kills its wearer's feet, you're wrong!
The redesign may have achieved
the intended goal, but the toe box is still what it's always been — a large toe box that accommodates large toes, a wide forefoot, and a wide heel.
One thing the design modification achieved is improving the heel –lock. And that's a nice thing for every ardent hockey player.
Another improvement to the design is the 3mm-taller Tuuk Lightspeed edge holder.
Using this blade holder does take some getting-used-to, but you also get a much better angle of attack playing. The skate comes with the Tuuk LS1 Edge, which is a stock stainless steel blade. And you can change out that in no time thanks to Bauer's Trigger blade switching system.
This lightweight, heat-moldable boot is super stiff, just as it should be, thanks to it boasting a lightweight pro-quality nylon quarter package. And being that stiff does enhance performance on the ice quite a bit.
You'll have to break in the boot, of course, and that won't be tons of fun. But after that, all you'll experience is unmatched comfort, support, protection, and a lot more.
Comfort-wise, the skate's 48ozx tongue, the Hydra Max liner, and the Form-Fit+ footbed enhanced with a foot stabilizer step in and do the job. This liner keeps your feet comfortable even when you're playing really hard and sweating out gallons.
Pros
Features a large toe box
Provides a wide fit throughout the boot
Lightweight
Comfortable (after you break it in)
Good performance
Improved design with enhanced heel-lock
Cons
Fit a little tighter than the Bauer Nexus 2N
Stock blades
While the fit is snugger, the skate is still way wider than many of its competitors. Check out other wide-width Bauer Senior Hockey Skates.
It's time to learn everything you should know when shopping for wide ice skates.
4 Different Foot Types
Ice skaters and everyone else have one of 4 foot types as far as width. Some skaters have narrow feet while others have regular-width feet. Others have wide feet, and the rest have extra-wide feet.
If you don't know what foot type you are, picking the right skate size can be extremely difficult and confusing.
Unless you want to be the skater that always needs to return their skates because they were too narrow, it's crucial to know your foot type.
There's a vast sea of figure skates and hockey skates that fit narrow feet really well but squeeze the heck out of regular-width and wide feet.
And I've seen skates from certain brands such as Bauer and CCM, whose regular-width fit (D) provides more room than the Wide fit in comparable skates from other skate companies.
Once you determine your foot shape, get to know whether the ice skate brand you're eyeing offers wide-fitting lines. For Bauer, the lines include the Vapor, Supreme, and Nexus (the widest) lines. I'm here to help you pick up a pair of skates you'll love wearing when doing drills, scrimmages, or actual play
Do You Really Have Wide Feet?
Let's pause a second and ask this all-important question: are your feet wide? How do you determine whether your feet are larger than what's considered normal foot size as far as foot width?
I've decided to answer this critical question at this point so you can know whether you have a wide-foot problem early enough.
If you develop bunions, that might be a sign your feet are usually flatter and wider than your shoes. Bunions are nasty, and to address them requires a trip to the operation room.
Another way to tell whether you have wide feet is to try and remember the last time you wore a pair that didn't cause blisters. Blisters are usually an indication that your feet are crammed in, and the sides of your kicks keep rubbing against your skin.
Here's one more sign you likely have wider feet. If your feet are flatter than any you've seen recently, that means they're becoming wider. Having flat feet (flat feet are usually wider) can result from genetics, habitually walking unshod, being overweight, getting older, or regularly engaging in high-impact pastimes such as technical skateboarding.
A recent study focusing on a U.K. population revealed that people's feet are getting longer and flatter. Can you believe a whopping 20 percent of the respondents couldn't seem to find shoes that are wide enough for their flat, beefy feet?
The researchers argued that the cause is likely ever-expanding waistlines. And, isn't this what's happening across the Atlantic in this land of the bold and free?
First, Show Up at Your Local Skate Shop
Maybe you've been meaning to buy a certain skate brand but have wider feet and aren't sure if the company offers wide-fitting boots. If that's what the situation is like for you, here's what to do.
Make time to walk into a local skate shop and try on in person the particular ice skate model you crave for size. The odds are there's a guy there that knows skate fitting inside and out.
Also, the shop likely custom-fits skaters. They have people who know how to bake ice skates to force them to assume the shape of your feet.
If it has the right people, the shop will examine your feet and recommend something that works great no matter what foot size or shape you are. And if you're wide-footed, they'll recommend a boot brand and model that perfectly aligns with your width.
What if there isn't a skating goods shop around, or you can't walk in and try boots on for some reason? In that case, I offer an alternative suggestion below.
How to Size Ice Skates at Home
Skate makers size figure skates and hockey skates differently.
That means a foot size chart that works brilliantly for figure skates won't work for hockey skates.
So, how do you size each kind of skate? Let's see.
How to Size Figure Skates Properly at Home
When it comes to sizing figure skates, a general rule says to select a skate size that's 1.5 sizes smaller than a regular dress shoe size. But buying 1.5 sizes smaller doesn't guarantee anyone a comfortable fit.
For this reason, the best way to size your figure skates is to measure your feet. I describe how to do that below. To complete this task accurately, first, gather what you need. Then, request someone to help measure your feet.
Here's what you need: A tape measure/ruler/a string, a piece of paper (blank), a pencil (or a pen), and socks if you use them when skating (you should). You also need a hard, level surface to support your feet as you measure them. Follow the process that follows:
Step 1: Put a Blank Piece of Paper on a Hard, Firm Surface
Place a blank piece of paper flat on the floor with one edge squarely touching the base of the wall.
Step 2 (Optional): Wear Socks
Put on socks if you prefer to play in socks. Skip this step if you skate sockless. Wearing socks ensures you get super-accurate measurements.
Step 3: Step on the Paper
With your heel touching the base of the wall, step on the paper and stand straight up.
Step 4: Draw a Straight Line
Notice where the largest toe reaches and, using a ruler and pencil, draw a straight line across the paper. The line should be parallel to the wall. *Note that this step doesn't apply to people wanting to purchase non-leather boots for recreational skating.
Step 5: Measure the Widest Part of the Foot
Follow this step only if you're sizing leather figure Skates. Run the tape or strip over the widest portion of your foot. Typically, the widest part is around the ball of the foot.
If using a string, execute the step above and then straighten the string out along the ruler to read the foot circumference and write it down somewhere, in inches.
Step 6: Get Your Foot Length
Measure the entire length of the foot using a ruler. To take this measurement, place the ruler at a right angle to the horizontal line. Write down the length number.
Step 7: Repeat the Process for the Other Foot
That's pretty straightforward, right? You can turn the paper upside down, or you can use a fresh one. You should use the longer length of the two feet to pick up an appropriate skate size.
Step 8: Look at a Reliable Foot Size Chart
I always say one can't always rely on size charts to find the best fitting size. But it's, for the most part, a reasonably reliable approach to size your ice skates.
Now, look at the skate size chart below from Jackson Ultima. What skate size most closely matches the longer foot measurement? The chart contains men's sizes and the corresponding women's sizes. You can use the chart to size skates for your child, boy, or girl.
*If you were sizing leather figure skates (you took both feet's circumferences, right), it's time to select a boot with the right width. Again, grab the chart and see the closest width measurement the chart recommends to people with your skate size.
To get this width recommendation, first determine what size you are, which you already did above. Once you determine your size, move your eyes down that size's column until you find a width measurement that almost coincides with the larger foot circumference. You did it!
How to Size Hockey Skates
When it comes to ice hockey skates, there are 3 different size categories. These size categories include the junior skate, youth, and senior skate sizes. I explain below what each size band is so you can see where you fit best.
Youth Size, Junior Size, and Senior Size Skates
What's the difference between junior figure/hockey skates and youth skates? How do junior skates differ from senior skates?
Senior skates have their best fit at a place 1.5 sizes down from men's regular dress shoe size. As for youth and junior skates, their best fit exists somewhere 1 size smaller than boys' normal shoe size.
If you're size 9.5 in men's everyday shoes, the best-fitting skates would be a senior size 8.
But if you're shopping for a kid with quickly growing feet, it's advisable to go a half size down (rather than a full size) from the kid's regular shoe size.
Selecting the right size isn't always that simple when choosing skates for narrow or regular-width feet. But things get a tad more challenging when sizing wide feet.
Here's a more reliable way to size hockey skates. But this method is more involved than the approach described above. Foot tracing is the main thing when doing hockey skate sizing.
How to Fit Hockey Skates Using the Foot Tracing Method at Home
What makes this hockey skate sizing strategy super accurate? It's because you get to count on length, foot width, and fit type to determine what boot size would fit your feet best.
You need pretty much the resources you had when sizing your figure skates. That's a ruler, a measuring tape/string, a pencil or pen, and a blank piece of paper, preferably white. Here are the steps to follow to size your hockey skates right:
1. Step 1: Lay a Blank Piece of Paper on a Hard, Flat Surface
Put the paper on a hard, flat surface such as the wood floor in your living room.
2. Step 2: Wear Socks (Optional)
If you like playing in a pair of socks, slide into those socks now.
Step 3: Step on the Paper
Stand on the blank piece of paper, and make sure to leave a wide enough margin all around the edge of your feet.
Step 4: Trace the Outline of Your Foot
While you can do it without help, it's better to have someone help you measure your feet. So, grab a pencil or pen and outline your foot. The best way to hold your little tracing tool is perpendicularly (to the paper).
Why hold the pencil at 90 degrees? It's difficult to trace areas underneath the foot in that position, which could lead to inaccurate and unreliable foot measurements.
Step 5: Measure Your Foot Length
Using a ruler or tape, determine the distance from your heel's end to the point around the toes that's farthest from the heel. Note that number down, and that should be your foot length.
Step 6: Measure the Foot Circumference
Now, take the tape measure and wrap it around the widest section of the forefoot. The number you get becomes your foot width measurement.
Step 7: Repeat the Foot Tracing Process for the Other Foot
Follow the foot tracing and width determination method you executed in steps 1 through step 6.
Step 8: Calculate Your Foot Width Ratio
It's time to do a little basic math here. To calculate the right foot's width ratio, take the right foot length measurement, and divide that by that foot's width measurement. Repeat the calculation for the left foot to obtain the left foot width ratio.
With these measurements, you're on your way to sizing your hockey skates pretty accurately. Note that the measurements in this skate size determination process are in centimeters.
At this time, finding an accurate skate size should be pretty easy. Take the greater foot length in centimeters and look at the skate sizing charts below to see what size matches that length. If you measure 25.1 cm or more, use this senior skate size chart. And if your foot length is 24.7 cm or less, use this junior and youth skate size chart.
Types of Hockey Skate Fit (Accurately Determine If You Have Wide Feet)
What do we do with the width ratios we calculated? This number (width ratio) expresses your foot's width relative to its length. You can easily use your foot width ratio to decide what type of skate fit would work best for you. But the most important job for this ratio is to help you know for sure if you have wide feet.
Medium-Volume, Low-Volume, and High-Volume Fits
Three skate fits exist, and these fits include the high-volume skate fit, mid-volume fit, and low-volume fit. How do I know for sure if I have wide feet?
High-Volume Fit
You know your feet are wide if your foot width ratio stays lower than 2.5. With such a ratio, you're likely to have a deep heel and a forefoot that's quite wide. Solution: order high-volume EE width skates.
But if your ratio is marginally less than 2.5, you likely belong in the medium volume fit category. Solution: order medium-volume EE width skates.
Medium-Volume Fit
How do you know you have standard-width feet? If your width ratio hovers between 2.5 and 3, you have standard-width feet, and the best boots for you are D-width, mid-volume boots. And if your ratio is less than 3 by a tiny margin, a low-volume skate in EE width should fit you properly.
What if your ratio is a little bit higher than 2.5? That means your feet are somewhat wider than the medium-volume fit. Solution: Choose EE width in medium-volume skates. You could also decide to select high-volume D-width skates. In this fit territory, you have a standard heel and a regular forefoot.
Low-Volume Skates
A skater whose width ratio exceeds 3 has a narrow foot that belongs in the low-volume territory. But what width do you choose when your ratio is slightly higher than 3? Select a low-volume EE-width hockey skate. Alternatively, choose a D-width mid-volume hockey skate.
What Do Width Sizes C, D, R, E, and EE in Ice Skates Mean?
Here's one more sizing aspect ice skaters should know, especially those planning on joining a beginner league, also called a hobby league in some places.
I keep hearing those new to ice skating asking, what does width D or width R mean in ice skates? Or, how much wider are EE-wide skates compared to E-wide skates?
If a boot offers a C width, that skate has a narrow fit. Obviously, a wide-footed person shouldn't order width C of any ice skating shoe no matter what brand they're looking at.
Width D means standard width. That's a regular-width boot and may cause an awful lot of foot pain if you're E or EE-wide. As for ice skate width R, that letter size means those skates are a little wider than width D.
E-width skates are considered wide skates. If you have a moderately wide foot rather than a standard-width one, you may want to try on boots in this size range.
R and E widths aren't common in ice skates. But that doesn't mean you won't come across boots in that width. EE and D happen to be the most common widths when it comes to hockey skates. And, the width EE is 3/16″ wider than D width.
D, E, and EE skates should work well for ice skating folks with larger than regular feet. But EE is about the widest fit you can find in these types of skates.
What If I Have Extremely Wide Feet?
You're asking this question because no shop where you live seems to sell extra wide boots. You own a pair of very, very wide feet, and getting ice skate boots that fit properly has been a perpetual problem.
But here's good news. Some brands sell extra wide-fitting ice skates. But he's not-so-good news: people with feet that are too wide may still have trouble finding something that fits well no matter what skate brand it is.
If you're one of those unlucky ice skaters with huge feet, the only effective approach would be to find a shop that does custom skate fitting.
The right place can easily make a custom-sized skate for your flat, large feet. Typically, skate makers charge anywhere between $100 and $300 over what you'd shell out for stock skates to craft custom boots.
The upside of using a custom skate shop is that most will fit you accurately. They'll also pair you up with a skate brand and model that'll work awesomely for you.
My Skates Are the Right Width, But They Still Hurt Me
One problem ice skaters of all stripes keep griping about is that their boot hurt their feet even though they're wide enough. But why do hockey skates and figure skates still squeeze a wearer's feet even when they're clearly the correct width?
A poorly fitting footbed could be the culprit, at least some of the time. Tons of boots out there, even some that cost a small fortune, use generic inserts/footbeds. Usually, these inserts cause fit problems because they're engineered out of cheap, low-quality materials.
Other times, these inserts cause trouble because they're misaligned with the skater's foot arch type. For example, if you're flat-footed and order boots with inserts designed for high-arched skaters, you'll experience foot pain.
One way to prevent ice skates from killing your feet is to use proper insoles — high-quality insoles. CCM and Bauer are some of the best brands for good quality custom-fit inserts that work well for large feet.
I highly recommend CCM inserts. And, that's because CCM insoles are of great quality. Plus, these inserts work across a multiplicity of skate brands and models.
Are your feet wider than most, and your skates still hurt despite having right-width boots? Consider using CCM custom inserts. This company offers its custom footbeds in 3 different styles.
Each style works perfectly with one of 3 different arch types. There are low-arch insoles, medium-arch insoles, and high-arch insoles.
So, what's the ideal kind of footbed for high-volume feet? The best kind of insert for ice skating enthusiasts with wider-than-usual, high-volume feet is the low arch-styled one. Below, see pictures of what these CCM insoles look like.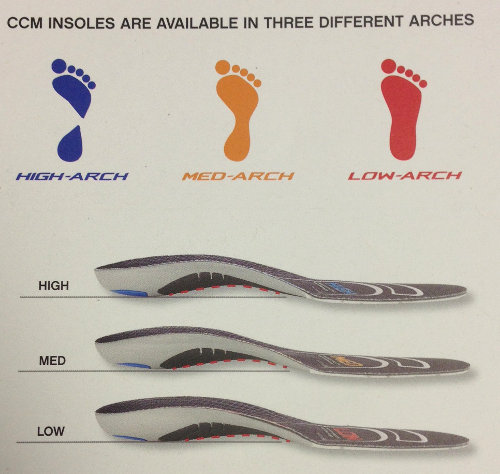 Low, Medium, and High Arch inserts from the world-famous skate-brand, CCM
Can Ice Skates Be Made Wider?
Yes, a good skate-fitting pro can tweak the inside of a boot and create a little more space to pack a voluminous foot. Some skate shops will even bump out problematic pressure points for free. Other shops do it pretty cheaply for the skating community.
How the skate shop pro modifies the fit mostly depends on your foot shape. But punching out the toe box is a pretty easy task for experienced skate fitting experts. Often, punching out restrictive toe areas solves the problem, making the boot feel a little roomier and comfier.
Another way to improve skate fit is to have them baked by someone that knows their thing. You can do it yourself at home if you are a born do-it-yourselfer that rarely makes costly mistakes.
Do you know what else makes boots feel a little wider? Well, it's putting in all of the hard work required to break them in. But no one likes endless pain and discomfort. That's why lots of skaters keep searching for that ever-elusive skate that fits like a glove without hurting one bit.
But wait, is there anything like a super comfortable skate that pampers feet while demonstrating excellent performance on the ice?
Let's now talk about another not-so-common wide-foot problem….
My Feet Are Wider at the Football, But Narrower at the Heel
If there's one foot shape that really struggles to get fitting ice skate boots, this is it. People with feet shaped wider around the football than around the heel area have a harder time with fit than skaters with the typical wide foot.
Such people are dismayed to discover they can't easily get a comfortable fit that enhances their skating form. This problem occurs even when the boot they have ordered is supposed to fit them without issues. For such people, custom sizing is almost always the best way to address the challenge.
Most skate makers can create an ice skate that offers split widths. Split widths is a fancy way of saying that a boot comes shaped wider at the football area and narrower at the heel. In other words, there are two separate widths for the same skate. How much better could fit ever get for such skaters?
How Should Hockey Skates and Figure Skates Fit?
You've probably asked yourself (and others), how do I know my figure skates/hockey skates are the right fit? How do properly fitting ice skates feel when you get them on?
You know you got the right skate size when your skates fit snugly. They're not too loose that power transfer to the blades becomes incredibly hampered. Aside from that, well-fitting skate boots aren't too roomy that they have a hard time providing sufficient foot and ankle support.
Here's one more loose-skate fact. Wearing ice skates that are too roomy is a surefire way to get broken ankles. Also, properly-fitting ice skates aren't too tight that they kill your feet while causing blisters and bruises.
So, how do you know you've laced up your boots to the perfect fit, a fit that massively enhances your game on the ice? If you've laced up your figure skates or hockey skates correctly (and they're the right fit), your feet shouldn't uncontrollably slide around the inside of the boots.
But while a skate shouldn't be too spacious, it shouldn't be too space-starved that it kills your toes and hurts the sides of your flat, high-volume feet.
Here's one more thing. The toe area should have enough room so that your toes can stay flat inside the boot instead of staying uncomfortably scrunched.
Are My Ice Skates Too Big?
Yes, your ice skates are too big if your feet are sliding all over inside the boot. Be sure to try on in person the option you're planning on buying.
That shouldn't be too hard for someone with even OK-ish people skills. Just show up at the local skate shop or rink shop and request them to fit you and make a recommendation.
If they get you the perfect size and their boot and prices seem reasonable enough, buy the product from them. I'm all about supporting the little skater-owned shop in my area, you know.
But all too often, physical skate shops sell their boots significantly more expensive than online marketplaces such as Amazon and others.
So, if you get a boot that captivates you and hugs your wide feet just right, you sure can order it from a trustworthy online store. But make sure that the store offers great prices backed by generous return policies.
Men's Hockey Skate vs. Women's Hockey Skate Sizes
Men's hockey skates differ from women's skates in styling and sizing. Generally, women's feet are narrower than men's for the same size. That's why hockey skates for girls and women tend to be a bit narrower.
A female skater that can't seem to find a wide enough women's styled figure skate is highly likely to find an option that fits properly in men's skates… because men's options are generally wider.
Men's Figure Skate vs. Women's Figure Skate Sizes
Similarly, men's and women's figure skates come styled a little differently. And sizing also works differently between these two skate boots.
But unlike women's and men's hockey skates that have different widths, with men's options being a little wider, men's figure skates typically come in widths similar to women's skates.
In other words, a female figure skater can use a men's figure skate. Likewise, a male skater can use a woman's skate to do jumps and pivots and stuff. That said, more women than men wear the opposite gender's figure skates.
How Do Figure Skates and Hockey Skates Differ?
Figure skating and hockey skating are different activities with different demands. Not surprisingly, the boot you use for one sport won't work as well for the other activity.
The main differences between hockey skates and figure skates revolve around the materials used, stiffness levels, blade design, weight, and protective abilities.
Let's now look at the differences a little closer.
Hockey Skates and Figure Skates Have Different Areas of Focus
If you look at a hockey skate standing beside a figure skate, you'll easily notice they're different pieces of Ice skating equipment. Hockey players need skates that go fast, turn easily, and offer quick acceleration. Additionally, these shoes also need to help the wearer to stop on a dime. That's why these skate boots need to be lightweight and have their blades cut a certain way.
Figure skating, on the other hand, are all about helping the player achieve neat jumps and pivots as well as carving precise lines and perfect arcs on the ice. That's why these boots are usually crafted from pliable leather and always feature a toe pick.
Hockey skates also focus on providing adequate protection to players. That's why they're constructed on mostly hard plastic and sometimes a bit of leather. As a hockey player, you may have to stop a puck shot with your skates. That's why you need tank-like armor around your feet.
Or, you may be in the way of another hockey player, and their skates ram right into the sides of your boots. Hockey stick blades are another reality that necessitates wearing the most protective hockey skates money can buy.
If what you're wearing happens to be not protective enough, you'll end up with a ton of pain. And if what you have on is a pair of recreational skates or some skates designed to enjoy pond hockey, you might even end up breaking something — often a foot!
Can you now see why hockey skates come with a hard, right boot vs. a more supportive yet pliable boot for figure skates?
Construction Materials Used
In comparison, figure skates are made for speed, spins, turns, jumps, and other kinds of precise maneuvers that require boot support coupled with a bit of flexibility. That's why figure skates are usually made of leather, often several layers of leather instead of hard, super-protective plastic.
Another difference is that hockey skaters need to be comfortable enough during play. For that reason, hockey skates come with quite a bit of nice padding on the inside and the tongue.
Figure skaters don't care much about comfort. All these people want is enough support and agility so they can pull off the most stunning stunts.
But these days, it's becoming increasingly common for figure skates to feature a liner that can be formed into the shape of the foot. That means quite a few figure skates are heat-moldable.
You want your figure skates to allow you to bend your knees just enough so you can launch your jumps and pivots without hindrance.
Design
Design-wise, figure skates seem to have a slimmer silhouette compared to the bulk-ish look of hockey skates. But looks can be deceiving. Even though hockey skates may look bulkier/heavier, they're typically lighter than they seem to be. The typical hockey boot is actually lighter than the typical figure skate.
Hockey Skate vs. Figure Skate, What's Wider?
Looking at these two boots placed side-by-side, you'd get the impression that hockey skates are wider than ice skates.
But that's not necessarily true since there are wider and narrower options in both skates to fit feet of varying dimensions.
Figure Skates Vs. Hockey Skates Blade Design
One instantly noticeable difference between figure skates and hockey skates is that the blades of hockey skates lack a toepick. That's mainly because hockey skates aren't designed to launch jumps and pivots, both of which need all the help a quality toepick provides.
Another blade design difference between figure skates and hockey skates is that the former's blades attach to the boot via metal plates while the blades in hockey skates link to the boot via a plastic frame called a tuuk.
With hockey skates, the blades are longer, and the curve around the middle appears more pronounced than it is for figure skates. The rocker of the blade stays nearer the middle. That means hockey blades curve upward at the back as well as at the front. This blade configuration helps a lot when it comes to making sharp turns and quick stops.
In comparison, figure skate blades are less curved than hockey skate blades, which means they're a little flatter. Additionally, figure skate blades tend to lie flatter as you approach the heel area. And, the largest curve on these blades is at the front portion of the skate.
Look at the pictures below and notice how a hockey skate differs from a figure skate in all the aspects we've just discussed.
What to Look for When Shopping for Wide-fitting Ice Skates
You've learned quite a bit at this point, hopefully. Now, all you need is a few practical tips to guide you as you select a well-fitting boot for the coming hockey season.
1. Decide Whether You Need Figure Skates Or Hockey Skates
As discussed above, figure skating doesn't focus on the same goals as hockey. Both sports are different, and they require a specific kind of ice skate to perform.
If you lean more toward the hockey side of things, buy a super protective hockey skate as these skates are designed with such players' needs in mind.
And if you're planning on doing figure skating, it's best to buy a nice, supportive pair of figure skates.
Tip: Consider renting figure skates for some time and then hockey skates and see how you like each skate type. This way, you get to make your decision without spending gobs of money initially.
2. Material Type and Quality
Leather figure skates are quite common, and they're as pliable as any decent skater would like. But leather does bump up the boot's cost quite a bit. The upside is that leather looks classy, plus it outlasts most other materials.
Synthetic materials such as vinyl are also used to construct the boot of these skates. Both synthetic and leather figure skates are good enough as far as performance. But I find that leather boots support my ankles better.
Important: Leather ice skate boots stretch better compared to PVC boots. If you have wider feet, I'd say go with leather skates. They'll fit your feet better once you break them in.
Make sure the ice shoe you're eyeing is crafted out of high-quality components. I bet you don't want to end up with a cheap-looking and poorly-constructed skate that falls apart in a week!
One more thing: keep your ice skates clean. Make sure to wipe down the boots and blades after each skate. Also, get skate guards and soakers for proper blade maintenance. Here's how to clean ice skates if interested.
3. Go with Wide Fitting Brands
Yea, I know. Points 1 and 2 above sounded generic and probably not very useful to you as a guy or girl with large feet. But we've now come to a section of this wide-fit ice skate review post that focuses on your problems and nothing else.
When it comes to ice skate boots that provide more foot room than what a standard-width fit offers, not all skate brands are created equal. So, do we have ice skate brands that accommodate high-volume feet better than the rest?
Yes, a few brands provide wide and extra-wide skates to cater to such skaters' ice play needs. What's more, a standard-width option from any of these brands can end up being as wide as R or E width of a similar-size skate from a different brand. Obviously, it makes sense to source your skates from brands that care about what wide-footed skaters need.
What brands offer wide-fitting skates? Bauer and CCM happen to provide some of the roomiest ice skates ever conceived. Well, it's not like all options from these companies work well for large feet, but most do. So, starting your search there can make your shopping journey super productive early on. Jackson Ultima also carries some pretty roomy figure skates.
Tip: CCM Super Tacks are the widest options from this brand. And Bauer Nexus offers the roomiest fit when it comes to Bauers.
4. Don't Cheap Out on Ice Skates
OK, everyone seems to want ice skaters to spend $100 or $200 more past budget. Marketers want you to spend more for obvious reasons, but people like me who are passionate about hockey and figure skating just want you to get great value for your dollar.
But, there's a reason everyone who's skated for a while recommends buying higher-ticket skates rather than the cheapest skates ever. For the most part, pricier skates are built from good quality materials and components. That's why.
But it gets better.
More expensive skates generally are more comfortable, protective, supportive, and durable than cheaper ones. Moreover, pricier skates often have a demonstrably better performance on the ice.
But you've got to be on the lookout for premium-priced skates that are nothing more than expensive crap.
If you're a beginner, you don't always have to pick a cheap beginner ice skate, such as the Jackson Ultimas. Such low-priced products work, but only for a while. At least, that's my experience buying skates and tons of other outdoor gear.
Plus, you almost always end up splurging on something that offers better performance, aesthetics, and durability, even if the upgrade costs a couple of hundred dollars more!
Well, Jackson Ultima sells decent entry-level ice skates, and some of these fit wide. But you can't expect to learn jumps and spins on Jackson Ultima Softec or even Jackson Ultima Artiste. These are absolute beginner skates designed for basic ice skating and nothing more demanding.
Related: Best Entry-level Ice Skates
So, if I recommend a pricey skate that's great quality and fits your wide feet well, performs awesomely, and evolves with you as you transition from the rec league to advanced-level play, grab it.
Make sure to order from a credible shop, though, whether that's online or a brick-and-motor store. Be sure that the store you order from isn't a shady online shop that surfaces every bit of fine print in their return policy just to deny you a replacement.
5. Yes, It's OK to Buy Used Ice Skates
Few ever mention this, but some of the widest-fitting skates happen to be those other skaters have used for a while. Naturally, more room happens as you use your boots.
So, if you know a skater that's planning on holding a garage sale, go there and try on a few of their old ice skates. Who knows, you might find something wide that costs close to nothing.
And if you spend some quality time on sites like e-Bay, you'll likely find something that'd work for your broad feet.
Did any of the boots above pique your interest? If yes, it's time to take the plunge and immerse yourself in all of the little joys of ice skating.